Search for your Scottish Ancestors
Scottish Indexes Conference XVII - Saturday 26 November 2022 (updated 7 September 2022)
We hope that you enjoyed our 17th conference. Registration is now open for our 18th Scottish Indexes Conference on Saturday 26 November 2022.
Donations
In March 2020, with most of the world in lockdown, we had the crazy idea to host our first online conference. We wanted to make it free and accessible to everyone. We were blown away by the response, not only from attendees but also from genealogists, archivists and family history societies who volunteered to give their time and energy to help us host these conferences.
Of course to keep these conferences accessible to everyone, we do need donations so that we can pay Zoom and our speakers. We know that these are challenging financial times for many so we are keeping the conferences free with no recommended donation. We want to say a huge thank you to everyone who is able to donate to keep these conferences going.
| | | |
| --- | --- | --- |
| Scottish Indexes Conference Donation - | £10 - | |
| Scottish Indexes Conference Donation - | £20 - | |
| Scottish Indexes Conference Donation - | £50 - | |
Handouts from Scottish Indexes Conference XVII (3 September 2022)
Emma has prepared the conference handout which includes information on all the presenters and many of the resources mentioned during the day. Download the PDF handout here.
Emma Maxwell has also kindly prepared a handout specifically for her presentation, 'Making Sense of the Scottish Census' which is available here.
Chris Paton's book 'Tracing Your Scottish Ancestry Through Church and State Records' is available through Pen & Sword.
Margaret Fox has prepared some notes on her presentation and you can read some of the documents showcased in more detail here.
Registration Instructions
Zoom: Many of us are now more familiar with Zoom than we were in April 2020 when we held our first conference. We have now expanded our package so there is plenty of capacity if you would prefer to watch on Zoom. Click here to register on Zoom.
Facebook:
This is an easy way to watch and interact with the presenters and attendees of the Scottish Indexes Conference. It is also possible to cast the conference to a smart TV which makes viewing more comfortable. Click here to join the
Scottish Indexes Facebook Group
.
Past Conferences
These events are designed to be interactive and are best watched live. Some presentations from previous conferences are available to watch again. Visit our Past Conferences page to see what you've missed so far and catch up with some of the presentations.
Scottish Genealogy Indexes
For over 20 years we have been publishing indexes to historical Scottish documents. It all started with the census, back in the days when it wasn't online! Our indexes have expanded and now you can search our Scottish genealogy indexes on this website.
Of course, there is always more to do! We work with volunteers to index records and right now they are beavering away at the prison registers and other exciting projects. Would you like to volunteer?
br>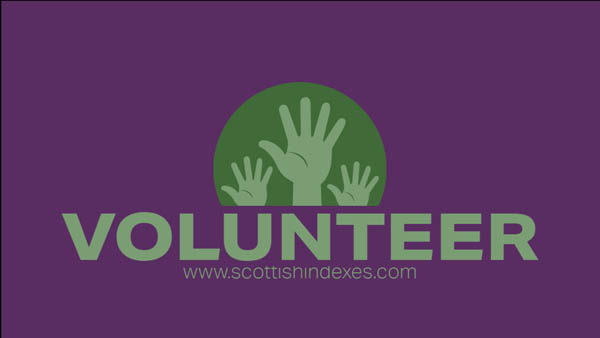 Join fellow family historians to help us index records, you can index one page or 100 pages, it's entirely up to you. Never done any indexing before? That's OK, you will be given lots of help and anything you can do will be very much appreciated. We want to work together to index these amazing records that can help us all discover our ancestors.
To get involved please contact us and we will give you more information.
Another way to help us get more records online is to donate to our indexing projects, this pays for a genealogist to index more challenging records such as sasines, deeds and court records.
| | | |
| --- | --- | --- |
| Indexing Donation - | £5 - | |
| Indexing Donation - | £10 - | |
| Indexing Donation - | £20 - | |
Scottish Indexes Orders (update 28 July 2022)
Many of the items we have indexed are not affected by COVID as we have digital copies of the original records. This means that we can still process many orders within 48 hours. A few record sets are affected by the pandemic. If we cannot fulfil your order within three weeks we will email within a few hours to explain the situation.
The National Records of Scotland (NRS) are open in a very limited way. After an 18-month closure, the demand for seats is very high and there are only 8 seats available each day.
We are processing orders by the date that we received payment and we are doing so as quickly as we can. Every month we email clients with a COVID update and will keep you informed as the situation changes. Please contact us if you have any questions before or after you place an order.
Database last updated on 22 August 2022 at 7:00 p.m. GMT
This update has added over 100,000 entries from the Crown Counsel Procedure Books to Scotland's Criminal Database.
.