Search for your Scottish Ancestors
Scottish Genealogy Research
Whether you are just starting out on your family history journey or you have been researching for years there are always new records to discover on Scottish Indexes.
We have indexed a variety of historical Scottish documents, from court and prison records to property and health records. A favourite collection for many researchers is our Scottish Paternity Index!
You can dive straight in using the search form above, which will do a global search of all of our records, or go to "Record Sets" to search specific collections. Not sure what you are searching? Go to our coverage page for a detailed breakdown of our indexes.
Featured Documents
Our featured Scottish genealogy documents this month are Scottish Prison Registers. Our 'black sheep' ancestors were often never mentioned in the family and so we may know even less about them when we start tracing our family tree. The reality is, however, that often when our ancestors fell upon hard times and ended up in prison, we can find out lots about them. We hope our free Scottish genealogy index will help you find out more about your ancestors.
A large proportion of the Scottish 'working class' Victorian population was in prison at one point or another so there is a high chance that one of your ancestors will appear in a prison register.
People could be sent to prison for all sorts of reasons. A sample of prison registers showed that around 21.9% of the committals were for assault, 16.9% were for theft and 14.5% were for poaching in the period 1843 to 1869.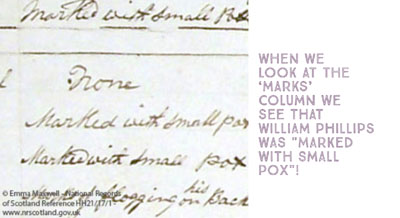 Here at Scottish Indexes, we have been indexing Scottish prison registers and we hope to add more in the future. See our progress so far here in the coverage section of our website.
There is a surprising amount of detail in prison records. As well as informing us about the case, prison records also tell us about the person. Victorian prison records tell us the height of a person, the weight of a person, and their level of education, as well as any distinguishing marks the person might have.
Visit our Learning Zone to find out more about these amazing records or simply start your search using our free Scottish genealogy index.
Database last updated on 7 January 2020 at 11:40 p.m. GMT
This update has added paternity cases from Elgin Sheriff Court Decrees for the years 1868-1919.