Research Services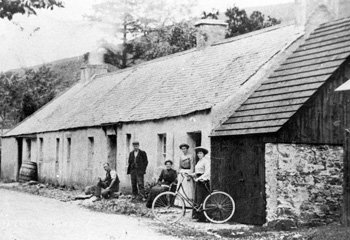 Graham and Emma Maxwell are experienced Scottish genealogists who visit the National Records of Scotland and other archives around Scotland on a regular basis. Find out more about the Scottish Indexes team here. Our standard fee is £30 per hour for Scottish research and this covers most expenses.
We have adapted some of our services during the COVID-19 pandemic as access to archives is limited. Once the pandemic is over, we plan to reinstate some of our previous packages. In the meantime, if the package you are interested in is no longer listed, please don't hesitate to get in touch so we can discuss the options.
Consultations and Problem Solving
Have you hit a roadblock, a brickwall with your research? Are you keen to trace your lineage back but you are struggling? Perhaps an ancestor seems to disappear into thin air. Or, was your ancestor illegitimate and you are struggling to find the father? Perhaps you can't find your ancestor's birth certificate. Our team are great problem solvers. Often we can solve a problem and produce a report in 3 hours and this is our standard 'Brickwall Package'.
Sometimes research takes a little longer or we may have to visit an archive to search original records.
We offer a free initial consultation by email. Please email us your problem, including all relevant details. We will assess the 'brickwall' and recommend a research strategy. If we don't think we can solve the problem we will tell you! There is no obligation to proceed with the research we suggest, this initial consultation is free. The best way to contact us is by email.
Public Speaking
Both Graham and Emma Maxwell are experienced public speakers. During the COVID-19 pandemic, they have been hosting a series of free Scottish genealogy conferences. Visit our conferences page to find out more.
If you would like Graham or Emma to speak at your virtual event, please just get in touch.
Record Retrieval/Quick Look-up
Our record retrieval services are limited due to the pandemic, however, we can now arrange for searches in the ScotlandsPeople Centre. This is useful if you are researching a common name or you are looking for more recent records. Please get in touch if you would like a search made for you.
Media Consultancy
We are experts in many areas of Scottish research and our team can offer consultations for TV, films, magazines and books. Please contact us to discuss your specific request.
Transcription Service
It can be very frustrating to finally locate an item relating to your family, such as a will from ScotlandsPeople, only to struggle to read it. We offer a transcription service to help you out. We can transcribe most Scottish documents. If you email us the document you would like transcribed we will confirm if we can transcribe it for you and give you a price for the transcription. There is no obligation to proceed with the transcription if the price is more than your budget, but many transcriptions cost around £35.
Scottish Family History Gift Package - £300
Are you looking for a genealogy gift? Our 8-hour starter package is perfect for anyone who has not started tracing their family history.
Tracing your family history is a rewarding and exciting experience. With every generation, you discover new ancestors, more stories and begin to understand your family history more.
Each family is different and research times vary, but we would expect to be able to trace back five generations on one line and find out a bit more about some of the other ancestral lines as we go.
If you (or the recipient of the gift) were born in Scotland all we need to begin is a name and date of birth. If you can give us more information that would be great but we don't need a lot to find your ancestors and help you connect with your Scottish heritage.
Included in the research fee are copies of all supporting documents and a PDF report which will clearly explain your ancestry. Most people like the research presented digitally, but we can also organise printing the report. Expanded research can be added to this basic package.
Do you have questions? Just get in touch. Ready to order? Simply pay through PayPal and a researcher will be in touch with you soon.