Search for your Scottish Ancestors
Find your Scottish Ancestors
What will you discover on Scottish Indexes? Our family history indexes can help you unlock your past and discover your Scottish heritage. Visit our Learning Zone to discover hints and tips from our professional Scottish genealogists and discover new family history resources. Search our historical records to trace your Scottish genealogy and use our share features to collaborate with other researchers.
If you have a question at any stage just contact us by email, join us on Facebook or visit our help section.
Featured Documents
This month's featured documents are our Sheriff Court 'paternity' records. The mother of an illegitimate child could take the father of the child to court, prove he was the father and force him to pay maintenance.
If you have hit a brickwall with your family history research because you can't find the father of an ancestor then these records may be just what you need.
These records are officially called 'Actions of Affiliation and Aliment'. The action of affiliation was important, a decree naming a man as the father of a child resulted in an amendment to the birth register (after 1855). Sometimes we see aliment only cases, these did not result in an alteration (RCE) to the birth register but the man was forced to pay aliment or maintenance to the mother so she could care for the child.
These records are split into two sets on our website, "Extracted Decrees" and "Processes". The extracted decrees are the basic entry and the processes are the more detailed paperwork.
As always our Scottish genealogy records are free to search with no login. You can search using the form above or go to our "Sheriff Court Paternity Case Search" page.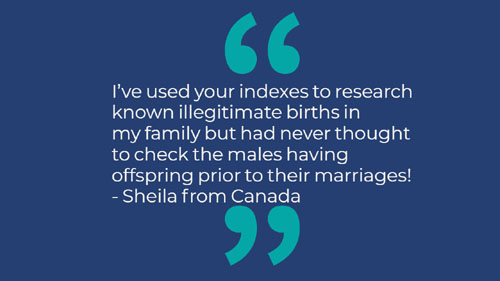 We hope these records help you find your Scottish ancestors. See our Learning Zone to find out more about tracing your Scottish family tree.
Database last updated on 19 March 2019 at 1:35 p.m. GMT
This update has added paternity cases from Stornoway Sheriff Court Decrees from 1829-1834 & 1849-1919, and Stornoway Sheriff Court Processes from 1860-1917.