Search for your Scottish Ancestors
Scottish Indexes Conference XII - 4 September 2021 (update 5 September 2021)
Hope you enjoyed our 12th conference. Registration is now open for our 13th Scottish Indexes Conference on 23 October 2021.
Donations
Our conferences are completely free and we don't even have a recommended donation. If you want to learn about Scottish genealogy we want you to attend. Obviously, there are expenses involved in hosting such a large virtual event and it does take a bit of time. If you would like to donate to help cover the costs involved, here are some options.
| | | |
| --- | --- | --- |
| Scottish Indexes Conference Donation - | £10 - | |
| Scottish Indexes Conference Donation - | £20 - | |
| Scottish Indexes Conference Donation - | £50 - | |
Handouts from Scottish Indexes Conference XII
Emma has prepared the conference handout which includes information on all the presenters and many of the resources mentioned during the day. Download the PDF handout here.
Tessa Spencer has kindly prepared a handout for her presentation, 'An introduction to the National Records of Scotland's archives' which is available here.
Genealogist Michelle Leonard has also provided a handout for her presentation, 'A Guide To DNA Painter Tools' which is available here.
Audrey Collins has also prepared a handout for her presentation, 'Tips on tracing your military and naval ancestors before the First World War' which is available here.
Registration Instructions
Registration is now open for our 23 October 2021 conference.
Facebook: This is an easy way to watch and interact with the presenters and attendees of the Scottish Indexes Conference. It is also possible to cast the conference to a TV which makes viewing more comfortable. Click here to join the Scottish Indexes Facebook Group.
Zoom: Many of us are now more familiar with Zoom than we were last April when we held our first conference. We have now expanded our package so there is plenty of capacity if you would prefer to watch on Zoom. Click here to register on Zoom.
Talks
Planning is well along for our October conference. As well as featuring some of the amazing records here in Scotland, we will be taking a trip around the British Isles as our ancestors had a habit of moving around.
We will be welcoming back genealogist Chris Paton who will present 'Tracing the Irish in Scotland'.
We are excited to introduce genealogist Eilir Daniels for the first time at the Scottish Indexes conferences. Eilir will present 'Tracing Welsh Ancestry'.
We are also delighted to introduce Amelia Bennett, who will present, 'Hidden in Plain Site' - a journey through where to find genealogical records that are often not known about or forgotten in preference for the more commonly used websites.
Dr Louise Williams, archivist at Lothian Health Services Archive, will join us to share some of the gems from their archive. Lorna Steele will join us from the Highland Archive Service to share some of their amazing school records.
Chris Fleet will be joining us again from the National Library of Scotland. Their map collection is a priceless tool for genealogy research. Chis will help us get to grips with their website in his presentation 'Using the NLS maps website for family history research'.
Genealogy Q & A hosted by Graham and Emma Maxwell.
Past Conferences
Our conference on 23 October 2021 will be our 13th free conference since April 2020. These events are designed to be interactive and are best watched live. Some presentations from previous conferences are available to watch again. Visit our Past Conferences page to see what you've missed so far and catch up with some of the presentations.
Scottish Genealogy Indexes
For nearly 20 years we have been publishing indexes to historical Scottish documents. It all started with the census, back in the days when it wasn't online! Our indexes have expanded and now you can search our Scottish genealogy indexes on this website.
Of course, there is always more to do! We work with volunteers to index records and right now they are beavering away at the prison registers and other exciting projects. Would you like to volunteer?
br>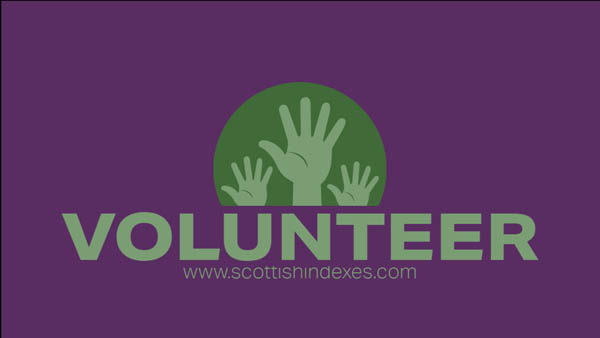 Join fellow family historians to help us index records, you can index one page or 100 pages, it's entirely up to you. Never done any indexing before? That's OK, you will be given lots of help and anything you can do will be very much appreciated. We want to work together to index these amazing records that can help us all discover our ancestors.
To get involved please contact us and we will give you more information.
Another way to help us get more records online is to donate to our indexing projects, this pays for a genealogist to index more challenging records such as sasines, deeds and court records.
| | | |
| --- | --- | --- |
| Indexing Donation - | £5 - | |
| Indexing Donation - | £10 - | |
| Indexing Donation - | £20 - | |
Scottish Indexes Orders (update 26 August 2021)
Many of the items we have indexed are not affected by COVID as we have digital copies of the original records. This means that we can still process many orders within 24 hours. A few record sets are affected by the pandemic. If we cannot fulfill your order within three weeks we will email within a few hours to explain the situation.
The National Records of Scotland (NRS) have announced that they will reopen to all users (by appointment only) on 6 September 2021. After an 18-month closure the demand for seats will be very high as we and others are keen to get back into the archive to continue our research.
We will process orders by date, beginning with those placed in March and April 2020. If you have placed an order with us during the last 18 months and you have not received our regular COVID updates please contact us.
Database last updated on 5 September 2021 at 6:00 a.m. GMT
This update has added over over 26,000 new prison register entries from Ayr, Dundee, Edinburgh and Kirkcudbright.
.