Search for your Scottish Ancestors
Scottish Indexes Conference VIII - 30 January 2021 (update 25 January 2021)
Since April 2020 we have been hosting a series of free Scottish genealogy events, a series of conferences designed to help you trace your Scottish family tree.
Registration Instructions
Facebook: This is an easy way to watch and interact with the presenters and attendees of the Scottish Indexes Conference. It is also possible to cast the conference to a TV which makes viewing more comfortable. Click here to join the Scottish Indexes Facebook Group.
Zoom: Many of us are now more familiar with Zoom than we were back in April when we held our first conference. We have now expanded our package so there is plenty of capacity if you would prefer to watch on Zoom. Click here to register on Zoom.
Donations
The conference is completely free and we don't even have a recommended donation. If you want to learn about Scottish genealogy we want you to attend. Obviously, there are expenses involved in hosting such a large virtual event and it does take a bit of time. If you would like to donate to help cover the costs involved, here are some options.
| | | |
| --- | --- | --- |
| Scottish Indexes Conference Donation - | £10 - | |
| Scottish Indexes Conference Donation - | £20 - | |
| Scottish Indexes Conference Donation - | £50 - | |
Schedules
We start at 7am UK time, which is in the evening in Australia and New Zealand. We keep going until about 11pm UK time so that people in the United States and Canada can watch too. Each presentation is shown twice throughout the day. We have a live Q&A with each presenter, as well as two longer Q&A sessions during the day.
Please select your timezone below. We're sorry if we have not covered your timezone. You may find the World Clock Meeting Planner on timeanddate.com useful as you plan your day.
Greenwich Mean Time (BST) - Scottish Indexes Conference Programme - 30 January 2021
New Zealand Daylight Time (NZST) - Scottish Indexes Conference Programme - 30-31 January 2021
Australian Eastern Daylight Time (AEDT) - Scottish Indexes Conference Programme - 30-31 January 2021
Eastern Standard Time (EDT) - Scottish Indexes Conference Program - 30 January 2021
Pacific Standard Time (PDT) - Scottish Indexes Conference Program - 29-30 January 2021
Past Conferences
This will be our 8th free conference since April 2020. These events are designed to be interactive and are best watched live. Some presentations from previous conferences are available to watch again. Visit our Past Conferences page to see what you've missed so far.
What can you expect at the January Scottish Indexes Conference?
Helen Tovey, editor at the magazine Family Tree, will be joining us for the first time. Helen's presentation title is, 'The importance of getting your facts straight (in order to tell your family story)'. Sometimes the facts add up when we're doing our family history; at other times they conflict. So how do we work out which are true, which false? How many facts do we need to find out 'the truth'? Perhaps, the truth may be a bit of a simplistic quest? Really, isn't our mission to find out enough facts, enough evidence, to trace and tell our ancestors' stories? Helen Tovey considers how we go about this, demonstrated by a case study.
Emma Maxwell, genealogist here at Scottish Indexes, will deliver the presentation, 'Beginning Scottish Research'. This presentation is a great introduction to the basic records you need to trace your family history and will focus on the records available from www.scotlandspeople.gov.uk. For the more experienced researchers Emma will share some research tips to help those ScotlandsPeople credits go further.
Chris Paton, genealogist at ScotlandsGreatestStory, will join us again and this time he will talk to us on the subject 'Sharing Your Family History Online'. Part of the joy of family history is sharing our discovery with relatives, close and distant. Chris will show us how to do this online.
Fiona Musk, NHS Grampian Archivist, will deliver the presentation 'In Sickness and in Health - family history and health records'. We will also be joined by Karl Magee, Archivist at the University of Stirling, who will speak to us about the William Simpson's Asylum Project.
Scottish Genealogy Indexes
For nearly 20 years we have been publishing indexes to historical Scottish documents. It all started with the census, back in the days when it wasn't online! Our indexes have expanded and now you can search our Scottish genealogy indexes on this website.
Of course, there is always more to do! We work with volunteers to index records and right now they are beavering away at the prison registers and other exciting projects. Would you like to volunteer?
br>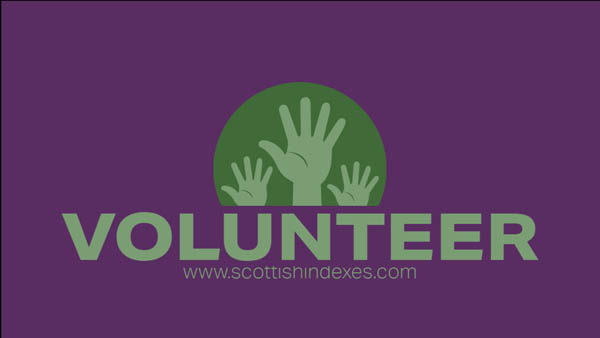 Volunteer's Weekend 9/10 January 2020
Join fellow family historians to help us index records, you can index one page or 100 pages, it's entirely up to you. Never done any indexing before? That's OK, you will be given lots of help and anything you can do will be very much appreciated. We want to work together to index these amazing records that can help us all discover our ancestors.
To get involved please contact us and we will give you more information.
Another way to help us get more records online is to donate to our indexing projects, this pays for a genealogist to index more challenging records such as sasines, deeds and court records.
| | | |
| --- | --- | --- |
| Indexing Donation - | £5 - | |
| Indexing Donation - | £10 - | |
| Indexing Donation - | £20 - | |
Scottish Indexes Orders (update 2 August 2020)
During the COVID-19 pandemic, we can still fulfil many orders from our online Scottish genealogy indexes, but not all. If you order a record that we can't supply right now, we offer a full refund, so feel free to place your order. Alternatively, contact us to make sure your order will not be affected right now.
As a result of the pandemic, archives across Scotland have been closed. Gradually, some are opening, but we're not back to 'normal' yet. Please contact us to discuss which research projects we can complete right now and which will have to wait.
Database last updated on 2 January 2021 at 9:25 p.m. GMT
This update has added paternity cases from Inveraray/Dunoon Sheriff Court 1881-1920 and across Scotland for 1920.
.