Search for your Scottish Ancestors
Scottish Indexes Conference X - 22 May 2021 (update 26 April 2021)
We're looking forward to the 10th Scottish Indexes Conference. If you are joining us for the first time, here's how it works. We start at 7 am UK time and keep going until 11 pm UK time. We do this to make our conferences time-zone friendly. Each presentation is shown twice, once between 7 am and 3 pm, then again between 3 pm and 11 pm. You can come and go throughout the day.
Donations
The conference is completely free and we don't even have a recommended donation. If you want to learn about Scottish genealogy we want you to attend. Obviously, there are expenses involved in hosting such a large virtual event and it does take a bit of time. If you would like to donate to help cover the costs involved, here are some options.
| | | |
| --- | --- | --- |
| Scottish Indexes Conference Donation - | £10 - | |
| Scottish Indexes Conference Donation - | £20 - | |
| Scottish Indexes Conference Donation - | £50 - | |
Registration Instructions
Facebook: This is an easy way to watch and interact with the presenters and attendees of the Scottish Indexes Conference. It is also possible to cast the conference to a TV which makes viewing more comfortable. Click here to join the Scottish Indexes Facebook Group.
Zoom: Many of us are now more familiar with Zoom than we were last April when we held our first conference. We have now expanded our package so there is plenty of capacity if you would prefer to watch on Zoom. Click here to register on Zoom.
Our Presenters
Kate Keter: Genealogist at www.familytreetales.co.uk
Presentation: "Mother dead, Father in prison"
In this presentation Kate will tell how a single entry in a school admission register led to uncovering stories of 3 generations of one family in sources from workhouses, prisons, passenger lists and British Home Children, to name just a few, from Scotland, England, Canada and USA.
Kate has been researching family trees for over 30 years and now works as a professional genealogist based in Linlithgow. She has an MSc in Genealogical, Palaeographical and Heraldic Studies from the University of Strathclyde, Glasgow where she is now a tutor on the Family History Research short courses. Kate is an accredited member of the Association of Scottish Genealogists and Researchers in Archives (ASGRA).
Andrew Armstong: Genealogist at Relatively Scottish
Presentation: "Patterns of Migration in the Scottish Textiles Industries 1750-1950"
Andrew has been working as a professional genealogist since 2015 in the Scottish Borders. He has a postgraduate diploma in Genealogical, Palaeographic and Heraldic Studies from the University of Strathclyde. He has presented on the Records of the Kelso Dispensary and Using Buccleuch Estate records at previous Scottish indexes Conferences. Andrew is accredited on the Register of Qualified Genealogists (RQG).
Chris Paton: Genealogist at Scotland's Greatest Story
Presentation: "Genealogy Without Borders"
Northern Irish born Chris Paton lives today in Ayrshire, Scotland, where he works as a genealogist through his Scotland's Greatest Story service. A holder of a Postgraduate Diploma in Genealogical Studies from the University of Strathclyde, Chris is author of 'Tracing Your Irish Family History on the Internet (2nd edition)', 'Tracing Your Scottish Ancestry Through Church and State Records' and 'Tracing Your Scottish Ancestry Through Church and State Records', and also writes a daily genealogy blog, Scottish GENES. As well as regularly lecturing on Irish and Scottish subjects, Chris also runs courses for Pharos Teaching and Tutoring Ltd.
Margaret Fox: Archivist at Traquair House
Presentation: "A decent looking woman in the early prime of life" - how it all went wrong for Sarah Gregg
In this presentation, showcasing a variety of archival sources, Margaret will tell the poignant story of Sarah Gregg, a domestic servant in Ayrshire, from her arrest for killing her baby to her life in the penal colony of Van Diemen's Land.
Margaret is the archivist at Traquair House, Scotland's oldest inhabited house, in the Scottish Borders. She worked for twelve years in the National Records of Scotland in Edinburgh where she spent some time working on the records of the High Court of Justiciary and became absorbed in Scotland's criminal past. She has also undertaken freelance genealogy commissions over the years and has more recently given online presentations on archives of particular value to the family historian.
Past Conferences
Our conference on 22 May 2021 will be our 10th free conference since April 2020. These events are designed to be interactive and are best watched live. Some presentations from previous conferences are available to watch again. Visit our Past Conferences page to see what you've missed so far and catch up with some of the presentations.
Scottish Genealogy Indexes
For nearly 20 years we have been publishing indexes to historical Scottish documents. It all started with the census, back in the days when it wasn't online! Our indexes have expanded and now you can search our Scottish genealogy indexes on this website.
Of course, there is always more to do! We work with volunteers to index records and right now they are beavering away at the prison registers and other exciting projects. Would you like to volunteer?
br>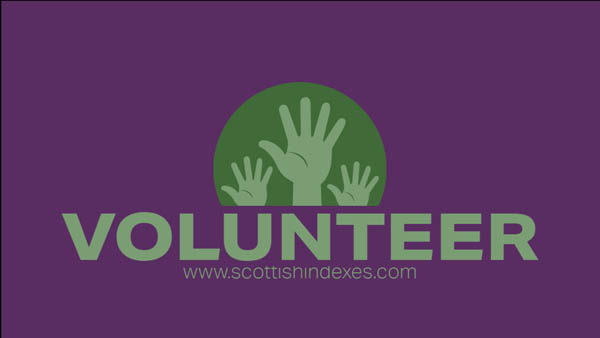 Join fellow family historians to help us index records, you can index one page or 100 pages, it's entirely up to you. Never done any indexing before? That's OK, you will be given lots of help and anything you can do will be very much appreciated. We want to work together to index these amazing records that can help us all discover our ancestors.
To get involved please contact us and we will give you more information.
Another way to help us get more records online is to donate to our indexing projects, this pays for a genealogist to index more challenging records such as sasines, deeds and court records.
| | | |
| --- | --- | --- |
| Indexing Donation - | £5 - | |
| Indexing Donation - | £10 - | |
| Indexing Donation - | £20 - | |
Scottish Indexes Orders (update 18 February 2021)
During the COVID-19 pandemic, we can still fulfil many orders from our online Scottish genealogy indexes, but not all. If you order a record that we can't supply right now, we offer a full refund, so feel free to place your order. Alternatively, contact us to make sure your order will not be affected right now.
As a result of the pandemic, archives across Scotland have been closed. Please contact us to discuss which research projects we can complete right now and which will have to wait.
Database last updated on 15 February 2021 at 11:45 p.m. GMT
This update has added paternity cases from Glasgow Sheriff Court for 1908-1913.
.