Search for your Scottish Ancestors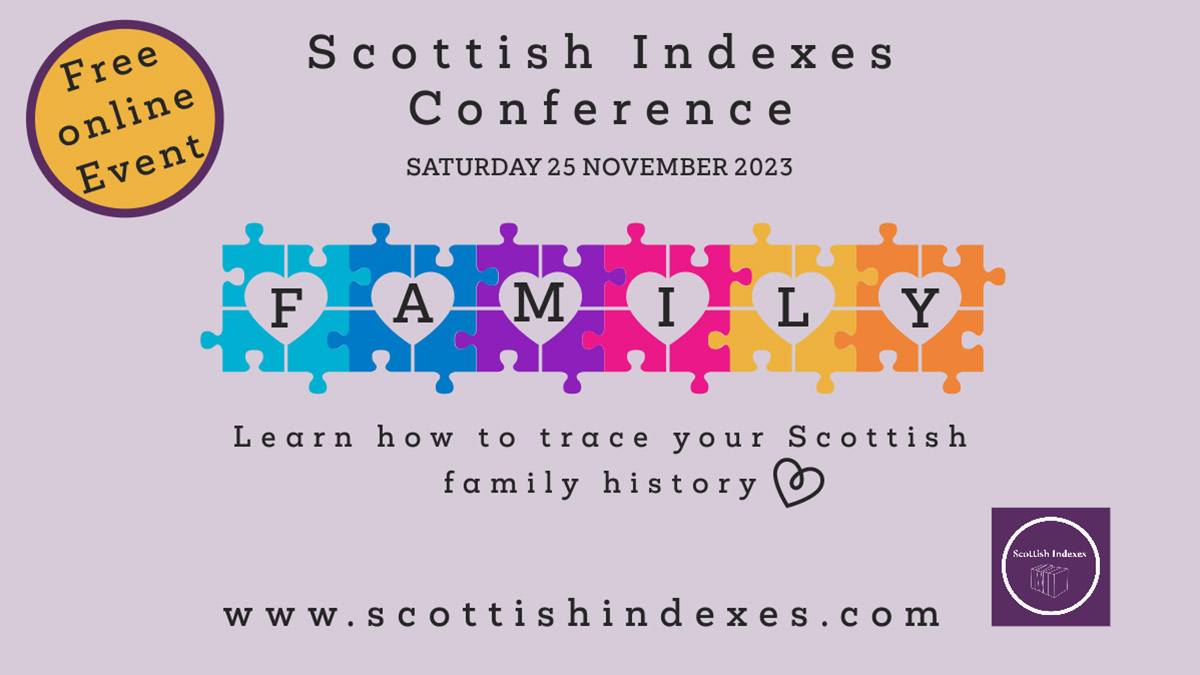 Scottish Indexes Conference XXII - Saturday 25 November 2023 (updated 26 November 2023)
We hope that you enjoyed our 22nd conference.
Registration is now open
for our 23rd Scottish Indexes Conference on Saturday 13 January 2024.
Donations
Four times a year we host a Scottish family history extravaganza. We have a packed day of presentations and host a Scottish genealogy Q&A session. We want these events to be accessible to all without charge. If you are new to genealogy or you have been researching for decades please join us.
Of course, there are costs to cover. If you are in a position to donate this time, we greatly appreciate your support. We know that these are challenging financial times for many so we are keeping the conferences free with no recommended donation. We want to say a huge thank you to everyone who has donated to keep these conferences going.
| | | |
| --- | --- | --- |
| Scottish Indexes Conference Donation - | £10 - | |
| Scottish Indexes Conference Donation - | £20 - | |
| Scottish Indexes Conference Donation - | £30 - | |
| Scottish Indexes Conference Donation - | £50 - | |
Handouts from Scottish Indexes Conference XXII
Emma has prepared the conference handout which includes information on all the presenters and many of the resources mentioned during the day. Download the PDF handout here.
Christ Fleet, Map Curator at the National Library of Scotland, has kindly agreed to make his presentation, 'Getting the best from the NLS maps website for family history research' available to watch here.
Registration Instructions
Zoom: It's free to register for this event on Zoom. Click here, fill out the registration form and you should receive an email confirmation within a few minutes. You will also receive reminders in the week before the conference.
Facebook:
This is an easy way to watch and interact with the presenters and attendees of the Scottish Indexes Conference. It is also possible to cast the conference to a smart TV which makes viewing more comfortable. Click here to join the
Scottish Indexes Facebook Group
.
Past Conferences
These events are designed to be interactive and are best watched live. Some presentations from previous conferences are available to watch again. Visit our Past Conferences page to see what you've missed so far and catch up with some of the presentations.
Scottish Genealogy Indexes
For over 20 years we have been publishing indexes to historical Scottish documents. It all started with the census, back in the days when it wasn't online! Our indexes have expanded and now you can search our Scottish genealogy indexes on this website.
Of course, there is always more to do! We work with volunteers to index records and right now they are beavering away at the prison registers and other exciting projects. Would you like to volunteer?
br>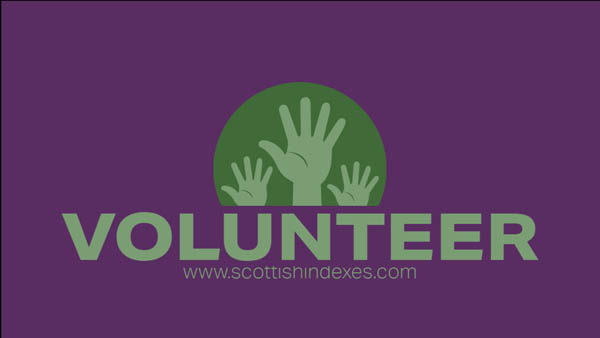 Join fellow family historians to help us index records, you can index one page or 100 pages, it's entirely up to you. Never done any indexing before? That's OK, you will be given lots of help and anything you can do will be very much appreciated. We want to work together to index these amazing records that can help us all discover our ancestors.
To get involved please contact us and we will give you more information.
Another way to help us get more records online is to donate to our indexing projects, this pays for a genealogist to index more challenging records such as sasines, deeds and court records.
| | | |
| --- | --- | --- |
| Indexing Donation - | £5 - | |
| Indexing Donation - | £10 - | |
| Indexing Donation - | £20 - | |
Database last updated on 24 November 2023 at 8:00 p.m. GMT
This update has added over 180,000 prison register entries from across Scotland from 1818-1927.
.