Learning Zone - Civil Registration
Quick facts
1 January 1855 - Compulsory registration of Births, Marriages and Deaths began across the whole of Scotland.
An index to these records can be searched online at www.scotlandspeople.gov.uk and historical certificates can be viewed online.
You can also visit the Scotland's People Centre in Edinburgh, where you pay an entrance fee of 15 pounds which entitles you to view as many records as you like without additional costs.
Top Tip: There is also a free two hour introductory session available at the Scotland's People Centre in Edinburgh, see their website for details.
Many genealogists offer a research service where they can help you find those awkward ancestors who appear to be hiding in the records. This can save you money in the long run. They can also transcribe records that are not yet available online.
Birth in Scotland: 1855 - A unique year
The first year of civil registration was by far the best. Details were taken of the ages and birthplaces of both parents, as well the number of children of the marriage, e.g. "1 Boy 1 Girl living, 1 Girl deceased". In the case of the mother it will also record how many children she has had, e.g. '... her 4th child'. As in almost all cases these other children referred to were born before civil registration began these details can be crucial!
Top Tip: If any member of the family was born in the year 1855 look at the certificate, even if it's not a direct ancestor!
Details on the 1855 certificate relating to the child: Name (if given), and whether Informant present or not; Baptismal Name (if different), or Name given without Baptism after Registration and Date of Insertion thereof; Sex of the child; When born: Year, Day of Month, Hour; Where born: if in lodging, so stated.
Details relating to parents: Father's Name, Rank, Profession, or Occupation, Age, Birthplace; When and Where Married; Issue, living and deceased; Mother's Name, Maiden Name, Age and Birthplace.
Details relating to the Informant: Signature of Father or Mother or other Informant, and Residence, if out of the House In which the Birth occurred.
Details relating to the registration: When and Where Registered, and Signature of Registrar.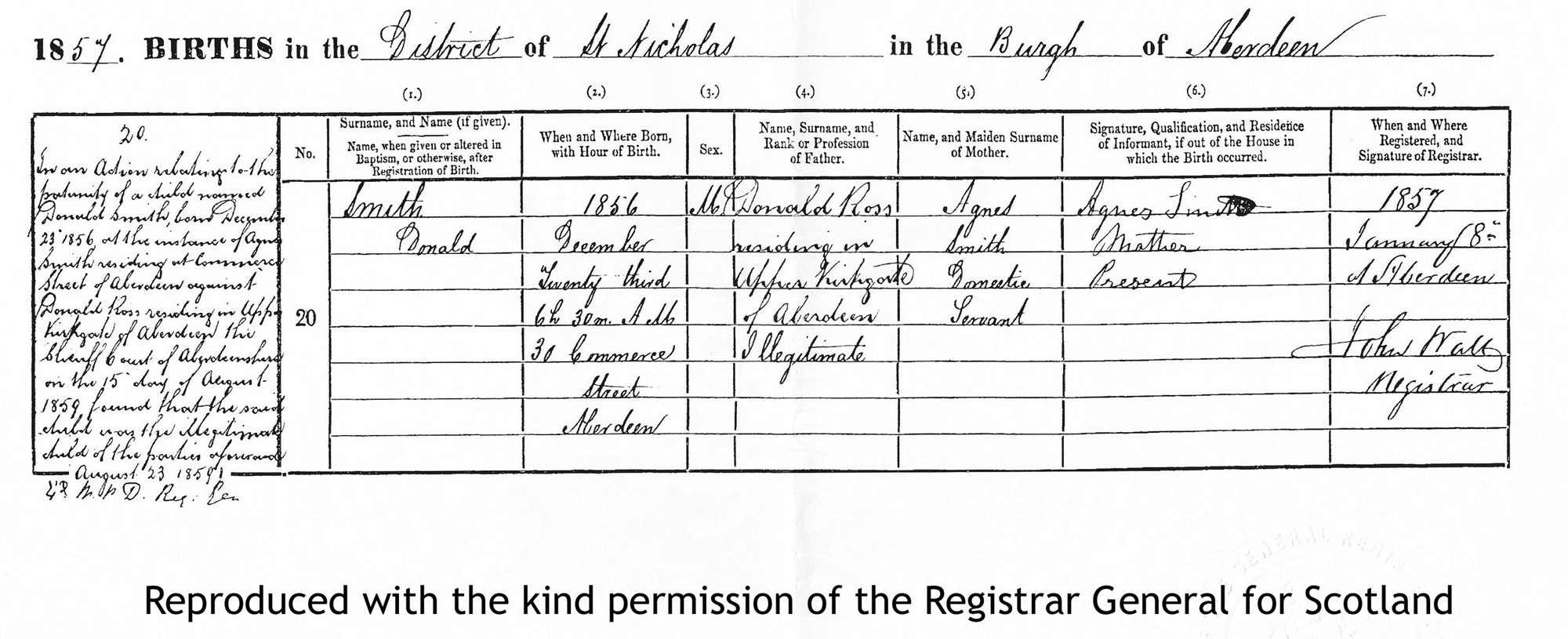 Birth in Scotland: 1856-1860
Recording all the details of the 1855 certificates proved impractical. In fact between 1856 and 1860 the certificates were very much streamlined (not in a good way). They still contain the full name of the child, date and place of birth, names of parents, including mother's maiden name, but no information about other children or ages of the parents, not even the place and date of the parents' marriage was recorded.
Birth in Scotland: 1861 onwards
From 1861 the date and place of the parents' marriage was reinstated. This is a very helpful piece of information when you are tracing a family tree in Scotland.
Top Tip: If your ancestor was born before 1855 or between 1856 and 1860 but they have a sibling born in 1855 or after 1860 look at their birth certificate to find the date and place of the parents' marriage!
Marriage in Scotland: 1855 - A unique year
As in the case of birth certificates, 1855 is also a golden year for marriage certificates. They include full names, ages, marital status, occupation, usual residence, date and place of marriage, names and occupation of the fathers, names and maiden surnames of the mothers, and the names of witnesses and the officiating clergyman. They also include the dates of birth and birthplaces of both the bride and groom, and the number of former marriages for each, plus the number of children by those marriages.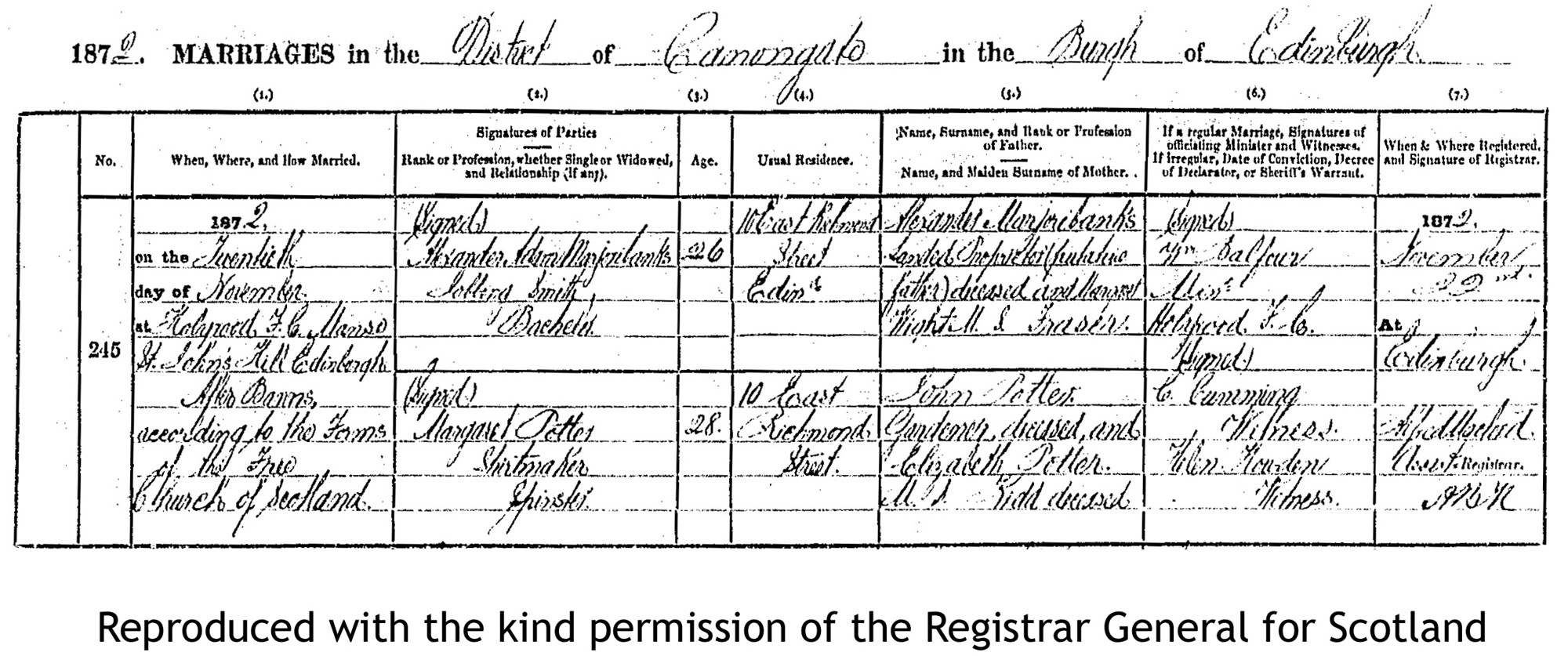 Marriage in Scotland: 1856 to 1971
Sadly Scottish marriage certificates no longer record dates of birth, birthplaces and previous marriage details after 1855. They did however still contain the names of both parents of both the bride and groom and should state if a parent was deceased at the time of the marriage. This can be very useful detail if you are hunting for a death of a parent.
Marriage in Scotland: 1972 onwards
The good news is that in 1972 the date of birth, birthplace (although usually the country only) were reinstated on Scottish Marriage certificates. Whilst only occasional help for a present day family historian it's good to know this information is being recorded for the future! Since 1996 the occupations of mothers and wives have also consistently been recorded.
Death in Scotland: 1855 - A unique year
As in the case of birth and marriage certificates, 1855 is the best year from a genealogist's point of view. In this first year of registration the certificates included the following information: Date, time and place of death, usual residence, deceased's name, sex, marital status, age and occupation, the deceased's place of birth, spouse's name, parents' names, occupations and whether they were deceased, the names and ages of children (or age and year of death if the child pre-deceased the parent), cause of death, duration of last illness, doctor's name, when the doctor last saw the deceased alive, place of burial, the name of the undertaker and details of the informant.
Top Tip: By looking at your ancestor's death certificate between 1855 and 1860, or even that of a close relative such as a sibling, you may get a clue as to where the rest of the family were buried. If it was a family plot you may then be able to trace your ancestors using transcriptions of the gravestone, if it has survived. It's not unusual to find three generations recorded on one gravestone! Go to the Family History Society for the area to buy your gravestone or Monumental Inscription (MI) books or CDs.
Death in Scotland: 1856 to 1860
Much of the bounty information recorded in 1855 was sadly not continued after that year. From 1856-1860 you can expect to find the name, marital status, occupation, datem time and place of death and usual residence, full names of both parents and whether deceased, cause of death, duration of disease and doctor's name, place of burial and undertaker's name, and details of the informant.

Death in Scotland: 1861 onwards
The information recorded from 1861 is almost exactly the same as that recorded from 1856-1860, apart from the fact that the spouse's name was added, and the details of the burial were removed. From 1967 onwards the date of birth is also included, and from 1996 onwards the occupations of wives and mothers is also consistently recorded.