Learning Zone - Scottish Prison Registers
Quick Facts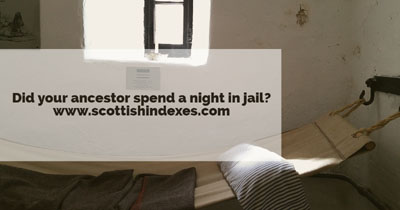 When we discover that our ancestors came upon difficult times, we have a greater opportunity to delve into their lives and find out more about them. As a large proportion of the 'working class' Victorian population was in prison at one point or another, there is a high chance that one of your ancestors will appear in a prison register.
The most common crime was assault, followed by theft. Children as young as six years of age were committed to prison. If we take Jedburgh Prison in the Scottish Borders as an example, between 1843 and 1869 21.9% of the committals were for assault, 16.9% were for theft and 14.5% were for poaching.
Victorian prison records usually give detailed personal information about literacy, weight, height and complexion.
Many Victorian prison records have survived. If your ancestor was in prison in Scotland it is definitely worth searching the records. Most prison records are held by the National Records of Scotland in Edinburgh. We have now indexed over 23,000 records: you can either look at our coverage or just start your search.
To protect the privacy of living people, records that contain entries from less than 82 years ago are automatically closed. If you can show that a person has died, you can request access. Please get in touch for more information.
Our Indexing Project
We have been indexing prison registers for a few years and you can help us by sponsoring an index. So far we have indexed over 23,000 entries from across Scotland which you can search online.
Our index is free to access and we give the National Records of Scotland reference. What does this mean? If you are visiting the National Records of Scotland in Edinburgh you can use the reference to look at the original records.
If you would like us to index a register please see our sponsorship page.
What Prison Records Tell us About our Ancestors
There is a surprising amount of detail in prison records. As well as informing us about the case, prison records also tell us about the person. Victorian prison records tell us the height of a person, the weight of a person, and their level of education, as well as any distinguishing marks the person might have.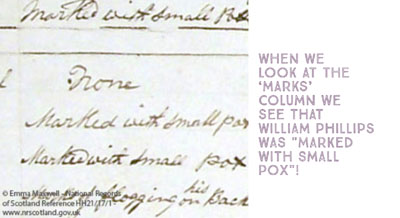 The information recorded in prison registers varies, but here is a list of the standard information given from the 1840s onwards:
Current Number
Date of Admission; By whom Committed
Previous Imprisonments; Last Current Number
Name
Age; Sex
Height
Married/Single
Where Born; Late Residence; Where spent the greater part of life
Weight in Pounds on Admission; Weight in Pounds on Liberation
Description (hair, eyes, complexion, marks etc).
Offence
Ordinary Occupation
Religion
Education on Admission; Whether Improved in Education during Confinement
Apparent State of Health on Admission
Untried Prisoners – Under Examination by whom; Committed till Liberated in due course of Law by whom
Liberated before Trial – Date; By whom
Tried – Date; By whom; Convicted or Acquitted; Sentence
Liberated or Removed after Conviction – Date; By whose Authority
Number of Days in Prison; Conduct in Prison
Digging Deeper
In most Victorian prison registers and some earlier registers, there is a column, 'Tried by whom'. This is a key piece of information. This will tell us if it was the Sheriff Court, the Police/Burgh Court, the Justice of the Peace Court, or the High Court of the Justiciary. You can then access the records of that court to find out even more about the crime. Most High Court records are held by the National Records of Scotland and fully catalogued. Most Sheriff Court and Justice of the Peace court records are also held by the National Records of Scotland, while Burgh/Police Court records tend to be held in local archives.
When you order a prison register entry from Scottish Indexes we will let you know if there are any known surviving records of a criminal trial. Some criminal records are more detailed than others, but most will tell you more about the conviction. They may include witness testimony and other information that can help you trace your Scottish family tree.
Top Tip: As prison registers usually refer to previous imprisonments, when searching, start at the back of the volume. If you find one entry you can use the 'Previous Imprisonments' columns to work backwards… saving yourself a lot of time!
Surviving Prison Records
A list of known prison records is shown below. From time to time more turn up and we will add these as we find them. You can request a search in any of these records, just contact us. If you want to help your fellow researchers you can sponsor an index so that everyone can benefit.
Aberdeen Prison Records 1809-1960
Airdrie Prison Records 1848-1882
Angus Prison Records
Ayr Prison Records 1841-1927
Banff Prison Records 1848-1878 (search on Scottish Indexes)
Beith Prison Records 1843-1849
Campbeltown Prison Records 1840-1882
Cromarty Prison Records 1841-1872 (search on Scottish Indexes)
Cumnock Prison Records 1849-1853
Dumbarton Prison Records 1828-1883 (search 1828-1840 on Scottish Indexes)
Dumfries Jail Books and Bail Bond Registers 1714-1810 (search on D&G Council website)
Dumfries Prison Records 1841-1964 (search 1841-1853 on Scottish Indexes)
Dumfries (Maxwelltown) Prison Records 1840-1894 (search 1840-1848 on Scottish Indexes)
Dunbar Prison Records 1844-1878
Dundee (Bell Street) Prison Records 1900-1908, 1911-1915, 1922-1927
Dundee (Tolbooth) Records 1767-1772
Edinburgh (Calton) Prison Records 1817-1821,1841-1874
Edinburgh (Calton) Bridewell Records 1798-1840
Edinburgh (Court Buildings) Prison Records 1858-1862
Edinburgh (Lock-up House) Records 1826-1835
Edinburgh (Police) Records 1841-1842
Edinburgh (Saughton) Prison Records 1922-1996
Edinburgh (Tolbooth) Records 1657-1817
Fort William Prison Records 1849-1880, 1893-1936
Glasgow (Barlinnie) Prison Records, Glasgow 1882-1960
Glasgow (Duke Street) Prison Records 1845-1955 (search 1884 on Scottish Indexes)
Greenlaw Prison Records 1840-1862 (search on Scottish Indexes)
Greenock Prison Records 1828-1961
Haddington Prison Records 1848-1861
Hamilton Prison Records 1828-1882
Hawick Prison Records 1844-1862 (search on Scottish Indexes)
Helensburgh Prison Records 1865-1878
Inveraray Prison Records 1828-1847 (some can be searched at www.inverarayjail.co.uk)
Jedburgh Prison Records 1811-1841, 1843-1869 (search on Scottish Indexes)
Kelso Prison Records 1844-1863 (search on Scottish Indexes)
Kilmarnock Prison Records 1848-1880
Kirkcudbright Prison Records 1791-1811, 1841-1883 (search 1841-1848 on Scottish Indexes)
Lanark Prison Records 1848-1881
Largs Prison Records 1843-1853
Leith Police Records 1840-1848
Lerwick Prison Records 1837-1878
Linlithgow Prison Records 1844-1881
Musselburgh Prison Records 1852-1861
Paisley Prison Records 1841-1883
Peebles Prison Records 1848-1862 (search on Scottish Indexes)
Perth (General) Prison Records 1846-1961
Peterhead Prison Records 1919-1945
Pollokshaws Prison Records 1848-1870
Port Glasgow Prison Records 1840-1846
Rothesay Prison Records 1877-1882
Saltcoats Prison Records 1844-1853
Selkirk Prison Records 1828-1840, 1853-1878 (search on Scottish Indexes)
Stewarton Prison Records 1848-1852
Stonehaven Prison Records 1848-1877
Stranraer Prison Records 1841-1881 (search on Scottish Indexes)
Stirling Prison Records 1822-1829
Tobermory Prison Records 1872-1882
Wick Prison Records 1848-1875
Wigtown Prison Records 1840-1878